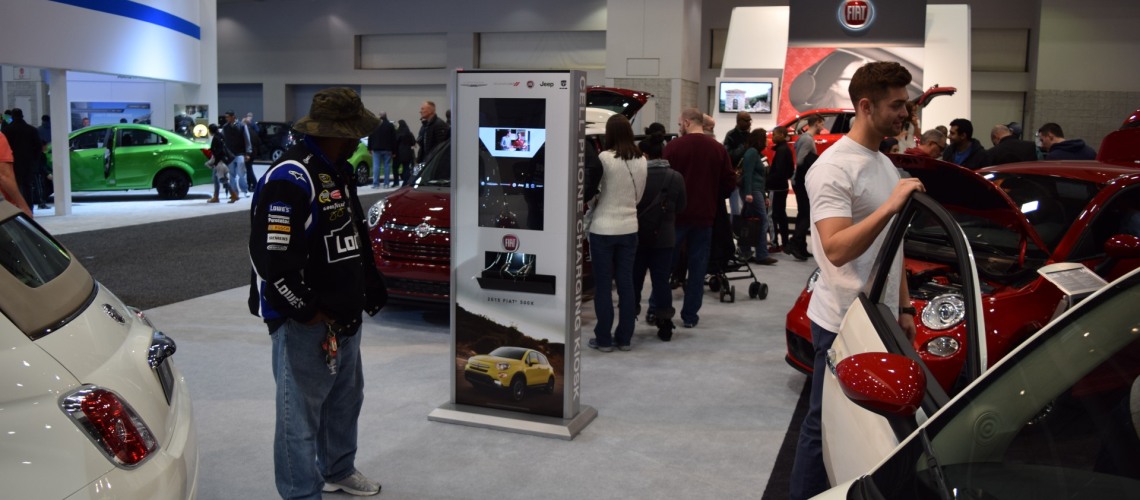 Some of the main goals of a conference exhibit or trade show booth are to obtain new leads and clients, develop relationships with existing clients, and maximize return on investment in money and time. On top of that, mobile device batteries tend to expire more quickly in the trade show or conference setting, and the ability to stay connected and informed is essential.
NV3's Conference and Trade Show Solution is the answer.
Customizable digital signage platform to meet conference and trade show needs

Product and service information
Targeted messaging for specific audience

Allow patrons to stay charged and connected with NV3's safe and effective emergency phone and device charging
Receive positive promotion and exposure on social media from appreciative conference attendees
Our mobile device charging kiosks give attendees the opportunity to keep their phones charged in a unique way that grabs attention for the exhibit offering the service. Our digital signage screens provide an easy way to share useful and relevant information. Some of the ways trade show and conference exhibits use digital signage are to display product info or loop demo videos and to show maps of the facility so people can find their way around. We also offer a variety of content that can be added if desired. Lead generation and relationship development comes naturally when people have a reason to spend more time at a particular booth, and our unique combination of phone charging and digital signage gives them that reason.
3 Simple Steps
Schedule an appointment with an NV3 Sales Representative.
Process the necessary paperwork.
Receive your solution and put it to work exactly where you need it.
Let's discuss your solution.
410-394-5500