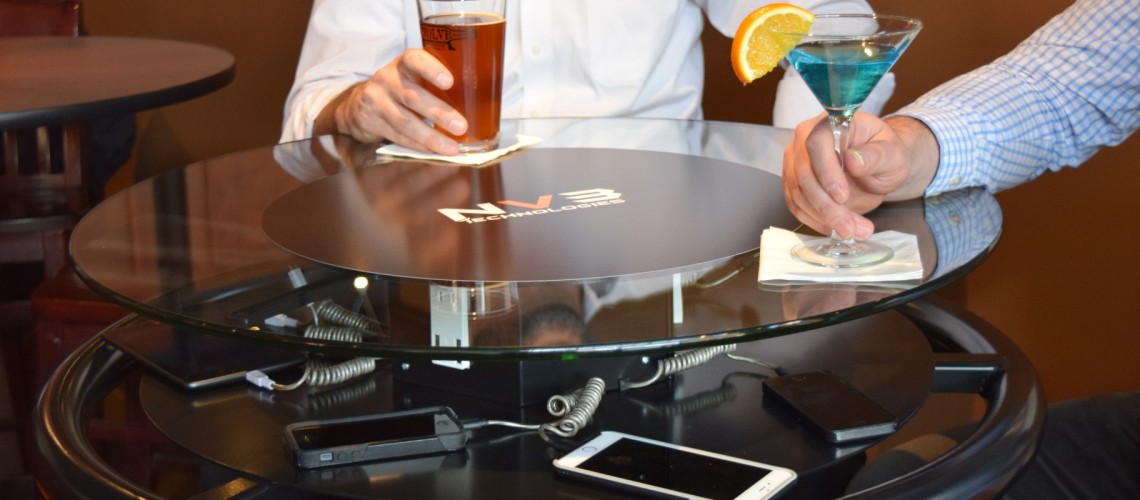 Bars, restaurants, food courts, and other dining facilities give people the opportunity to connect socially, whether for business or pleasure, and staying informed and connected is essential.
NV3's Dining Solution is the answer.
Allow patrons to safely and effectively charge their phones, eliminating the hassle for staff of providing chargers and/or keeping track of customers' phones.
Customize a digital signage platform that meets the specific needs of a particular restaurant or dining facility.

Specials
Digital menu
Ads
Upcoming events

Receive positive promotion and exposure on social media from appreciative customers. 
Our mobile device charging technology is the cleanest and safest on the market. People not only appreciate the ability to keep their phones charged, they also value the digital screens that are designed to keep them up-to-date on important information while taking in a meal or drinks away from home. We also offer a variety of content that can be combined with the location-specific info the screens provide. Keep your world connected with the Dining Solution from NV3. 
3 Simple Steps
Schedule an appointment with an NV3 Sales Representative.
Process the necessary paperwork.
Receive your solution and put it to work exactly where you need it.
Let's discuss your solution.
410-394-5500